Chinese Amazon has become a trusted, well stocked online shopping site in China. Now, you can shop in English both conveniently within the mainland and abroad for Chinese goods. Here's a helpful guide I wrote for the Amazon.cn store.
"Refresh page if the language does not change to English immediately."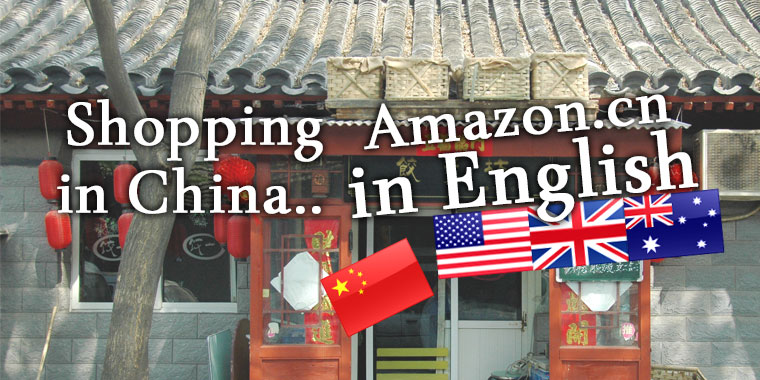 About Amazon.cn
Amazon (in Chinese: 亚马逊 or Yàmǎxùn) has arrived to the republic with ambitious plans to storm the world of e-commerce, this time in China. And have done quite well considering that the Chinese internet shopping sphere is a tough one to penetrate, with locals faithful to Taobao, Tmall and other consumer-to-consumer focused retail shopping sites.
Despite Amazon still falling short compared to it's well known dominating characteristics in other countries, especially the US, undoubtedly it's position in the Chinese market will only continue to increase. Already boasting with an impressive amount of products on their wear house shelves. On top of that, there is special interest amongst foreigners not used to the tangles of smaller Chinese businesses and individual entrepreneurs with varying degrees of reliability. Especially with comfortable shopping in English, there is demand for a company like Amazon.
With a high level of consumer protection, not just foreigners but also the Chinese are reaping the benefits of a well known and trusted international brand.
Amazon China in English
Their website at Amazon.cn has a very useful guide for English speakers on how to order both within and outside of the Chinese mainland. Also you may check the direct link on top of this page, to change the site language directly to English.
This does leave some product description and a few other pages untranslated. If you are shopping for already known products, the amount of English should be sufficient for registration and processing orders. Also they have efficient help desk staff that can guide you in English. But for those who wish to browse through the products completely in English, there is an option to use a translation extension that utilises Google Translator for live translation of web pages. While the translator is far from perfect, it still provides a very liable option to understanding the content.
Here are some methods to achieve this with popular browsers. Note that the same trick will work for other languages too: — for example Spanish, French, Japanese, Korean, Italian & Russian.
Google Chrome
My personal favourite is Chrome, which is equipped with a translating feature for languages other than your set "default browser language". It will automatically popup the translation bar where you have the "always translate this page" option for a smooth and automatic browsing experience.
Mozilla Firefox
This option in my experience is more reliable for Mac users, and a very easy extension to install for Firefox with a click of a button. Similar settings can be found from an icon that is added to the top right corner of the browser window.
---
Note. If you have any questions please leave a comment below and I'll do my best to answer them! Thank you for reading! Kind wishes, Charlie.